Bahai Golden Rule Perspective / Stories
"
...and if thine eyes be turned towards justice, choose thou for thy neighbour that which thou choosest for thyself...
"
.
- Baha'u'llah, Epistle to the Son of the Wolf, p. 29
Painting by Hassan Fattah
Every 19 days Baha'i's of every age across to world get together in their neighbourhoods for a Nineteen Day Feast. The word "Feast" doesn't refer to food, but to a spiritual feast of community life. Each Feast is named after a spiritual attribute, for example Beauty and Mercy
"Abdu'l-Bahá explains that all living things were created and connected by Gods Love. Just as the parts of the human body are linked, so too are all members of humanity joined. God's laws and teachings are like lamps that guide humanity. When we use the light of justice, we strive for the comfort of all. The different parts of the body work together to ensure the whole body is healthy and no part is hurt. In this way when we practice justice, we all contribute to the beauty and health of a unified humanity "
Artist Statement
I was born in the Kurdistan Region of Northern Iraq, and studied at the institute of Fine Art in Erbil. More recently I graduated from UniSA's with a Master of Visual art in painting. I participated in SALA at the Baha'i Center of Learning and became interested in the Baha'i faith, as I found that my main ideas on life match with Baha'l's principles.
As an artist I am deeply influenced by modern Iraqi artists, as well as by my Kurdish cultural background. I developed a type of visual dialogue within abstract expression which draws from these sources and also speaks to the western context I find myself sharing today.
The inspiration for this work came at the same time that I was reading the part of The Seven Valleys book on equality, the principle of oneness. The stages of the soul's journey is described terms of seven valleys—of search, love, knowledge, unity, contentment, wonderment, and 'oneness'. So that was my energy to create this artwork. I made seven circles to refer to the Seven Valleys. These circles are depicted on the blue background, showing the infinite sky.
I use whatever material I feel fits my idea, for example, I used Acrylic and oil pastel together here, and other materials, they all work together. Artwork is a message and the material I use depends on its ability to express my ideas and communicate with the audience.
For this project, I have been very happy to participate and see the other people, as an artist, as a Bahai'i, as a person. All of the religions have a Golden rule. This is beautiful.
Bahai Interfaith Stories
Celebrating a Holy Day through Service
For a few years now a Baha'i family in Marion, Adelaide have decided that they will celebrate the Twin Holy Days by service to others through acts of kindness.
The Twin Holy Days are the birth of the Founder of the Baha'i Faith Baha'u'llah, and the birth of the Herald of Baha'u'llah, the Bab. The children wanted to make sure they show how grateful they are to those who serve the community on behalf of others.
During family consultation the children were excited to be adding new acts of kindness to their list. For every place of service, the children baked cookies for the staff and took items that would assist the population.
This year the children visited the Women's and Children's hospital with helium balloons. They visited a homeless shelter and gave bottles of water and food, a fire department, adopted a Koala named Opal at the Koala hospital, visited sick friends and the RSPCA. In previous years the family had visited a police station, elderly community members and took toys to a women's shelter.
The family look forward to continuing to show acts of kindness on the Twin Holy Days for many years to come.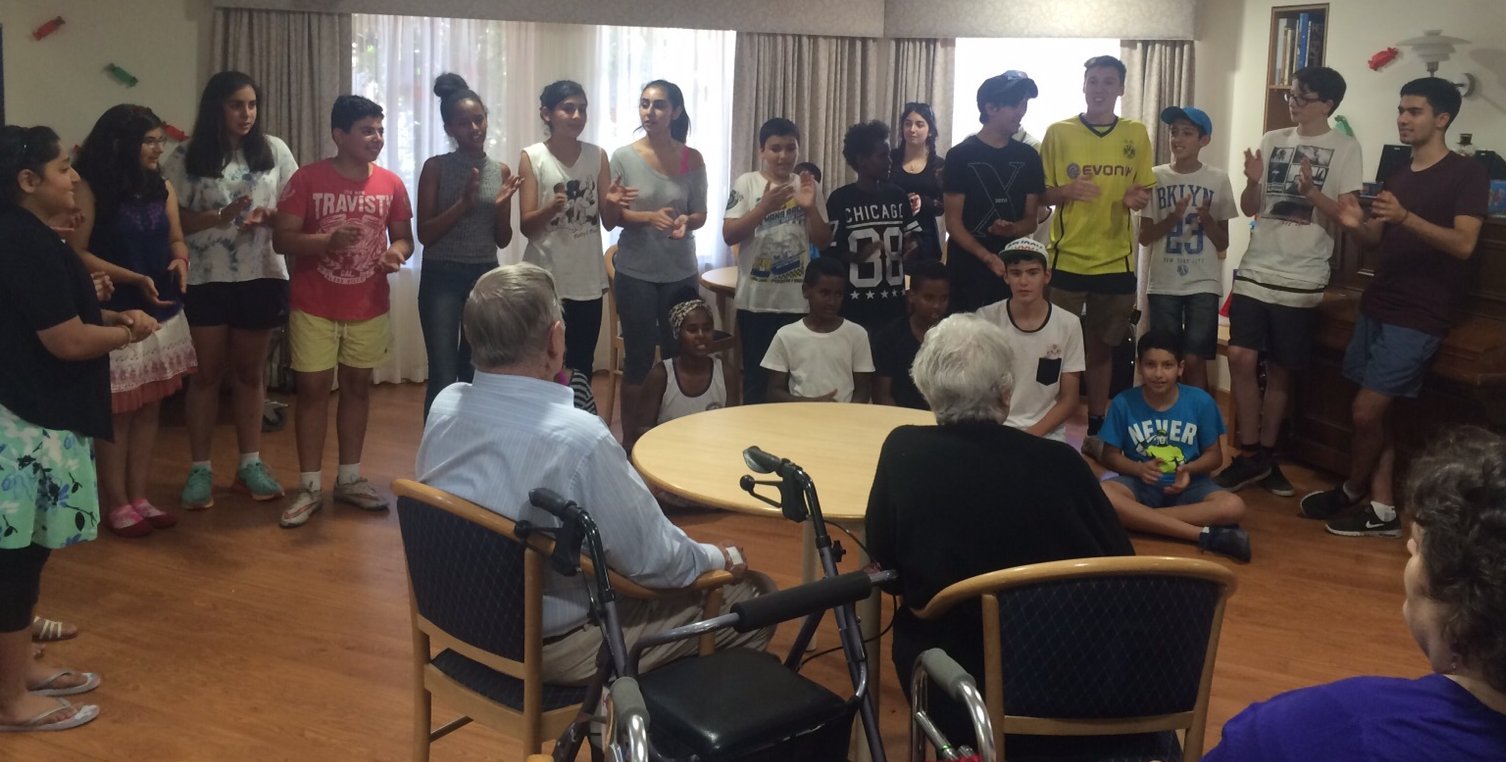 Every three months in Adelaide, some of the Junior Youth (JY) groups in the community join together and have a JY camp. The JY groups are a spiritual empowerment program open to all young people between the ages of 12 to 15yrs.
Stories are discussed, with concepts such as confirmation and hope, and how when they can use positive forces they can be agents of change in their own lives and in the lives of others.
The JY also play sport, do artistic pieces and plan a service project. At this camp the JY chose their service project to be visiting a nursing home. They decided together that they didn't want anyone to feel alone in their community and knew that many old people don't always have family who can visit them.
The group visited a nursing home in Unley, sang songs they had made and spent time talking with the elderly residents. The JY looked forward to going back to their regular groups to carry out more service projects. In their groups some of the JY have done service such as planting trees, raising money for the less fortunate, community picnics and car washes.
As the groups progress the JY also try and undertake service projects that will have an ongoing effect on their community. Some examples are groups running virtue classes for children, assisting a community garden and regularly walk their elderly and disabled neighbour's dogs.
The Baha'i community hold regular spiritual children's classes that are open to all children, in neighbourhoods across Australia. Several children's classes in Burnside came together last spring to hold a Children's Day. The emphasis is on helping children learn to apply spiritual principles such as love and justice to their own lives and of those around them.
Along with songs, stories, prayer, craft and cooperative games, the children wanted to do a service activity together. Some local schools with a New Arrivals program for students were contacted and the parents and children decided to make 'Welcome Packs'. The packs included little toys, water bottles, books, pens, notepads and chocolates.
During the Children's Day, the children made special hand draw welcome cards to go with each pack. The children helped fill the bags and had a discussion about service, friendship, kindness and what it would be like to arrive in a new, unfamiliar country. The packs were gratefully received by the school and the Burnside Baha'i community are still in contact with some of the new families.